Baltimore's National Aquarium is at the heart of the Inner Harbor. It has been providing fun and education to families since 1981. During its history, the Aquarium has built quite the reputation and name for itself. The Aquarium sought to protect with its trademark registration. So, the Baltimore National Aquarium became a registered trademark on June 17, 2014.
About the Baltimore National Aquarium's attraction
Baltimore National Aquarium is one of the country's leading and reputable aquariums. In fact, it has even won multiple awards. Additionally, the Aquarium is one of Baltimore's largest tourist attractions. Accordingly, the Aquarium hosts about 1.6 million visitors a year, most of the tourist are from out-of-state. Further, the National Aquarium is an integral part of Baltimore, boasting over 17,000 specimens!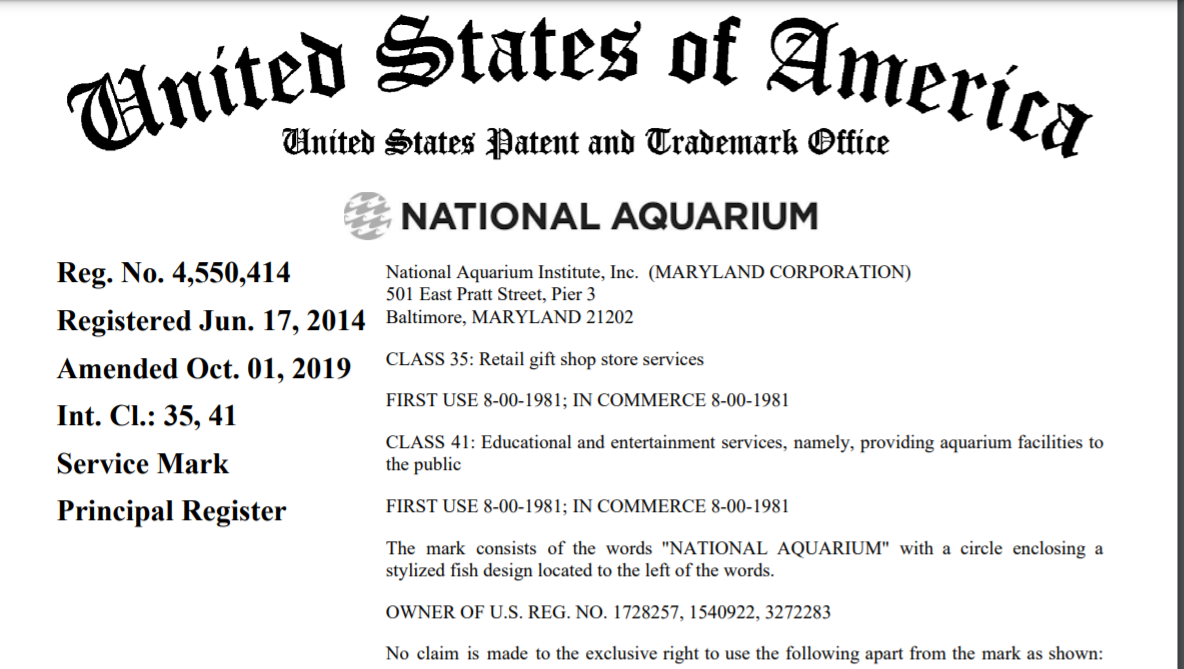 The Baltimore's National Aquarium is more than a registered trademark
The Baltimore National Aquarium is more than just a fun day with the family. The Aquarium's aims to encourage and inspire the conservation of the world's aquatic treasures. It is also an integral part of conservation efforts. In fact, the Aquarium leads the nation in research efforts. Some of the research efforts involve the impact of coastal ecosystems and watersheds.  In addition, the Aquarium conducts conservation efforts through various events. Some events include cleaning up the Chesapeake Bay Wetlands and the Aquarium's Marine Animal Rescue Program. By registering for a trademark, the Aquarium is seeking to protect its name among the ocean life.
About Baltimore's National Aquarium Is A Registered Trademark
What's interesting about this application is that the Trademark Office required the applicant to disclaim exclusive ownership rights in the word AQUARIUM. This means, the public has a fundamental right to use the term AQUARIUM in reference to an aquarium. In general, the Trademark Office will deny applications, or require legal disclaimers of trademarks or (elements of trademarks) that are generic or descriptive. For more information, read our article about Trademark Disclaimers.

To Register Your Baltimore Trademark…
Contact Attorney Charles Riddle for a consultation to get your trademark registered. Attorney Riddle is a licensed patent attorney who manages several trademark, copyright, and patent portfolios for clients. With over twenty years of experience in the practice of intellectual property law, attorney Riddle will protect your brand. Visit Esquire Trademarks for more information.