The Charm'tastic Mile Trademark Registration
The Charm'tastic Mile trademark was registered on September 15, 2020, for use in the following business: Chamber of Commerce Services, namely, promoting business and tourism in a specific downtown approximately mile area of Baltimore, Maryland. The trademark registration is owned by The Charm'tastic Mile of Baltimore Inc. located at 120 N. Luzerne Avenue, First Floor, Baltimore, Maryland 21224-1147.
About The Charm'tastic Mile Trademark (Love That 1.3)
The Charm'tastic Mile represents the Ceremonial/Honorary 1.3 mile corridor that connects Downtown-West, the Inner Harbor & Harbor East in the heart of Downtown Baltimore. Inspired by The Magnificent Mile (Chicago), The Charm'tastic Mile was introduced to the city in 2016, and is now home to a variety of iconic hotels, restaurants, museums, and shops.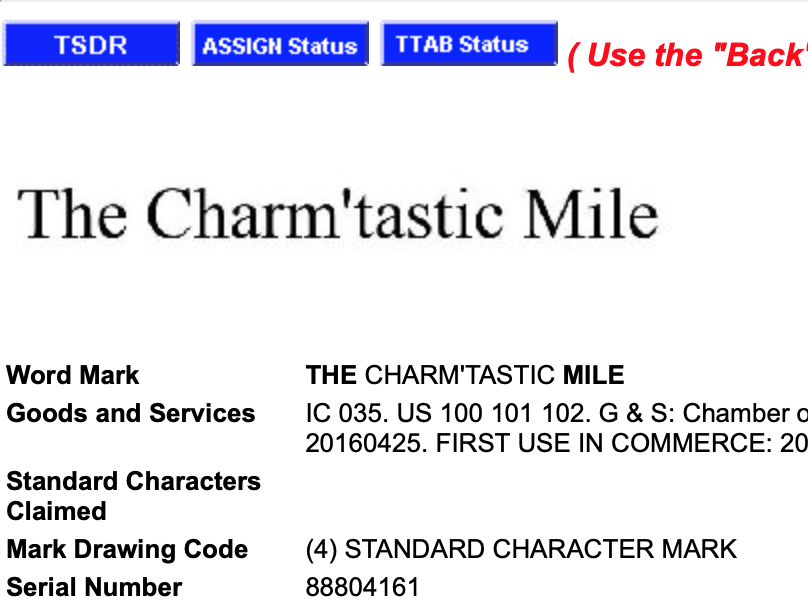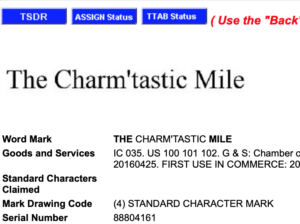 Baltimore was given the nickname, "Charm City" by Mayor William Donald Schaefer in 1975. Now, during the troubling times we face in 2020, Baltimore is hoping to create a new outlook and stimulate the economy with the creation of The Charm'tastic Mile. The iconic street follows in the footsteps of famous attractions such as Rodeo Drive in Beverly Hills and The Magnificent Mile in Chicago which appeal to tourists and residents alike.
Did you know?
The Charm'tastic Mile was introduced exactly 65 years to the day after the famous Domino Sugars neon sign (April 25, 1951.) If you've seen an image of the Baltimore skyline, you've likely noticed the iconic neon sign.
The Charm'tastic Mile Store is now offering souvenir products for supporters and visitors to show their appreciation for the mile.
To Register Your Baltimore Trademark…
Contact Attorney Charles Riddle for a consultation to get your trademark registered. Attorney Riddle is a licensed patent attorney who manages several trademark, copyright, and patent portfolios for clients. With over twenty years of experience in the practice of intellectual property law, attorney Riddle will protect your brand. Visit Esquire Trademarks for more information.